QA DELUXE 5500 Whole House Fan (Cools Home up to 3400 Sq. Ft.) 3945 CFM (HVI-916) Comes with FREE 2 Speed Switch & Timer or Single Speed Remote (CLICK TO VIEW DETAILS) (Call for FREE Expert Advice & Additional Discounts) FREE SHIPPING
SKU:

QADeluxe5500

Weight:

60.00 LBS

Shipping:

Free Shipping
Description
QA DELUXE 5500 Whole House Fan (Cools Home up to 3400 Sq. Ft.) Do-It-Yourself | $25 OFF COUPON J9C7W6T6DT
QA-Deluxe 5500 is the highest quality of any of the mid-range whole house fans on the market. QA-Deluxe 5500 offers a light weight heavy duty solid aluminum housing that will not distort, dent or fracture with oversize mounting brackets for the motor that prevents motor and fan blade shifting. Higher quality acoustical tube and fully riveted back draft damper. We just don't stand behind our product we can stand on it.
NEW 1" POLY FOAM ENERGY STAR R-5 BACK DRAFT DAMPER (COMES FREE WITH ALL QA Deluxe WHOLE HOUSE FANS)
QA-Deluxe 5500 is for 2-story homes up to 3400 sqft & single story homes up to 2400 sqft and requires about 4.5 sqft of net free attic ventilation. It delivers a powerful 3945 CFM (HVI-916 certified airflow rating).
It comes with an option of an On/Off remote control with timer, two-speed (Hi/Low) remote with timer & temp control or two speed HI/LOW wall switch and digital timer. (See Control Options Toward Bottom of Page)
IMPORTANT: All CFM ratings for QA-Deluse have been verified by an independent testing agency authorized by the State of California as meeting the strict (HVI-916) standard. When comparing CFM (airflow) ratings against similar style whole house fans, it is important to compare the HVI-916 CFM certified airflow rating. This is the true apple to apples comparison. The following link is to the CA.Gov website and allows you to search a company's Brand to see their products HVI-916 CFM rating CA.Gov
To see how our QA-Deluxe whole house fan compares against the competition click here: QA-Deluxe vs Competition
QA‐Deluxe 5500
3945 CFM (HVI-916) Certified Rating

For 2-Story Homes up to 3400 sq ft & Single Story Homes up to 2400 sq ft

Option of On/Off Remote Control, Two-Speed Remote Control, or HI/LOW Wall Switch & 4-Function Digital Timer.
Acoustical Ducting for Quieter Operation.
Gravity Damper Keeps Air From Entering The Home When System Is Not In Use. Heavy Duty Mounting Brackets Keeps Damper Off Drywall.
Heavy Duty State of The Art Spun Aluminum Fan Housing Will Not Weaken Over Time.
Heavy Duty Mounting Fan Motor Bracket With Rubber Bushings Prevents Motor From Shifting And Reduces Vibration
Easy Installation. No Framing Required. Fits between 16″ & 24″ On-Center Joists.
10-Year Complete System Warranty.
Made In The USA.
QA-Deluxe 5500 Whole House Fan System comes complete with a FREE 2-Speed Wall Switch/5 Function Timer or Single Speed Remote. Optional Two Speed Wireless Remote or Two Speed plug-and-play Wall Switch. Please call 888-849-1233 when ordering to choose FREE Control option.
Optional Two Speed Remote with multi-function timer and Temp Zone.
Optional plug-and-play 2-Speed wall switch with multi-function timer
INCLUDED (CONTROL & DAMPER) CALL 888-849-1233 TO CONFIRM CONTROLLER SELECTED
BACK DRAFT DAMPER
Industrial grade gravity fed back draft damper requires no power and is standard with all QA Deluxe whole house fans. The R5 insulated gravity damper is designed keep attic air from entering the living space when the whole house fan is not in use.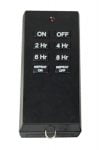 SINGLE SPEED REMOTE CONTROL
Plug & Play. No Wires To Run. Just plug into an outlet.
Our Wireless Single speed remote control with timer (1, 2, 4, 8 hours or ON) allows you to operate the fan up to 100 feet away. Make your system more convenient to use and eliminate the need to cut holes and run wires down the…
OR

TWO-SPEED WALL SWITCH & TIMER
Our wall mounted two speed switch & timer lets you set the speed of your fan and choose when it will shut off.
QA Deluxe vs. Competition
QA Deluxe 5500 (Review Comparison Pictures of the Blue Links Below)
Half Horsepower Permanent Split Capacitor Motor
3396 CFM (HVI-916)
Trident Pro 4.8X (Review Comparison Pictures of the Blue Links Below)
Damper Box Sits On Drywall
Half Horsepower Permanent Split Capacitor Motor
Trident Pro 3260 CFM (HVI-916)
*Deluxe QA-3300 has the same features as our QA-5500 but uses a 1/4 horsepower motor with a CFM rating of 2425
FREE SHIPPING | Call 888-849-1233 for FREE Expert Advice & Discounts
QA Deluxe
We just don't stand behind our product we can stand on it.
View All
Close
16 Reviews
Love the fans. We purchased three of them (one for our home and two for our rental properties). They are perfect for the cool Colorado evenings! Thank you!

We looked at all the fans that were on the market. Quiet Cool, Tamarack, Airscape, etc. and it was a toss up between the Centric Air and QA Deluxe. We were on a budget and chose the QA Deluxe and are very pleased.

Quality Fan at Reasonable Price | $50 Referral Checks

We are on a budget and shopped for the best fan . We looked at the Quiet Cool and Tamarack but went with the QA Deluxe. We feel that we made the right choice. I had a few friends who like our fan and I referred them to Mike and received a $50 referral check.

Purchased after Reading Reviews

I am a single mom and wanted a whole house fan to cool our home. I read reviews on line and decided on the QA Deluxe. It fit my budget and it cools our house and my daughter and I love it.

Wanted to Cool our Home in Hawaii | Referred Friends got $50 checks

We have a 3200 sq ft in Hawaii and have excess heat that we wanted to remove. We called Factory Fans Direct and were happy to learn that the QA Deluxe could be shipped to HI. We ordered the fan and received it in about 10 days and we were very pleased with the customer service and the quality and performance of the fan. I referred a few friends who also bought a fan and got $50 checks.

Good instructions, and super helpful customer service. I had to put mine on a wall, way up high. They sell a vertical damper kit you need for this. I bought the 2 speed with timer option, and they even sent a wall plate. Hanging the actual motor is a breeze, one lag bolt through the chain, and clip the carabener on the motors eye bolt. I do recommend wiring before hanging, at least in my low attic. You can hear the fan push air. More of air noise though, and no where near the helicopter lifting off that the old fixed motor types are. The housing appears to be 14 gauge or so spun formed aluminum, and looks to be powder coated. The motor is even isolated from the housing. Everything seems to be well made.

We Love Our QA Deluxe Whole House Fan

We love our QA Deluxe whole house fan. Not only will it pay for itself by saving on our energy bills, but we are finally able to sleep comfortably upstairs. Our upstairs was always so hot even when we ran the air conditioner. Now we simply open the upstairs windows at night, turn on the fan and bring in the cool outside air. I really can't recommend this whole house fan enough.

FANtastic... Superior over other Fans..

We recently installed our QA whole house fan and couldn't be happier. Not only is this product superior to other whole house fans (I have owned two other brands) but their customer service is exceptional. We had a few questions during the installation and Mike answered the phone (on the weekend) and addressed them all. I definitely give this business a five-star rating!

Cool House.. Cool Product

I live in a coastal area. My house, and attic, get hot, just about the time of day it starts cooling outside. I bought one size up to make sure it was powerful enough. I get a great breeze through the house. I use the low setting at night and the high setting to blow out the hot air and cool the house.
View All
Close